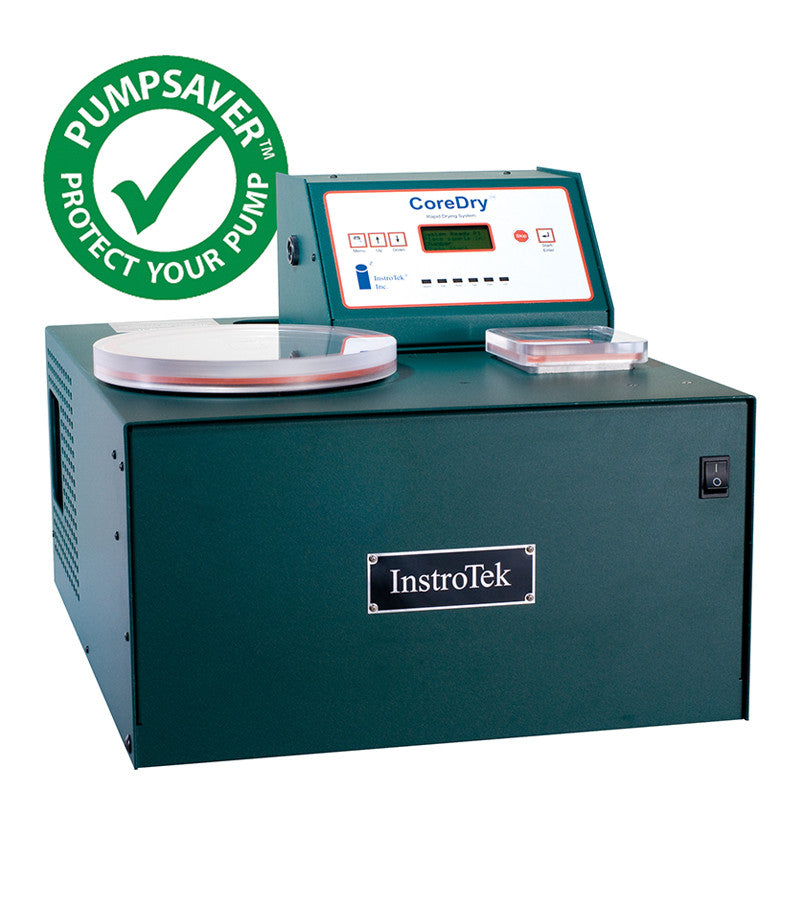 CoreDry™ Rapid Asphalt Drying System
Rapid Asphalt Drying System
ASTM D7227 & AASHTO R79
Patents #8225526, 8408013, 9702626
CoreDry is an automatic system for rapid drying of material samples and objects. Use this device to remove moisture from your sample in minutes. The amount of moisture removed allows the users to determine moisture content in aggregates, core samples, gyratory samples, loose mixtures, pc boards, wood chips, pulp, loose paper, and many other materials. Dry weight can also be used for the determination of the density of objects in laboratory and field sites. Why wait hours or days for drying with fans and ovens when you can dry your samples in minutes with CoreDry. This system utilizes high vacuum technology and the PumpSaver™ for rapid and safe drying of material samples and objects. The samples stay cool during drying, which preserves the sample composition. With CoreDry, you get the same accurate dry weight as using the oven without degrading or changing the sample characteristics.
Let CoreDry dry your samples at room temperature in minutes not hours.
The CoreDry, was introduced to the construction market in 2004. InstroTek's CoreDry uses vacuum technology to rapidly and completely dry compacted asphalt samples and field cores in minutes. Place a field core, gyratory sample, or a sample of loose mixture in this innovative fully automatic, and fully integrated device, and, unlike older conventional methods, in minutes you have a completely dry sample.
Because CoreDry dries the sample at close to room temperature you will have the most accurate and repeatable dry sample weight for your calculation of density or for other tests requiring dry sample weight.
Fast, Accurate, Innovative
In just minutes, CoreDry can dry field cores. Now you can take a core sample from the field and measure its density in less than 20 minutes, saving you time and providing the confidence you need to continue producing quality pavements.
Moisture loss in the sample is based on vacuum and innovative electronic desiccation technology. The CoreDry cycles a flow of air and vacuum within a highly efficient moisture removal process. The system also contains an integrated electronic moisture trap to capture the moisture being removed from the sample. The CoreDry is the first product of its kind for rapid drying of compacted and loose asphalt mixtures. ASTM D7227 was developed and established based on CoreDry.
Density Does Matter!
When you CoreDry your samples, you ensure your measured density values are accurate. Additionally, you can avoid conflicts with other testing agencies over variable QC/QA results and provide your paving crew the accurate information they need to construct quality pavements.
Advantages
Fully automatic and portable. It includes a high-performance vacuum pump and an extremely efficient moisture trap that ensures long-term pump performance and maintenance-free operations.
Simple to use. Just load the sample and press start to begin the drying process.
Can dry field cores in less than 15 minutes. Quick, dry weight allows density determinations of field samples in minutes, not days or hours.
Enables crews to construct quality pavements. Quick determination of density results allows the paving crews to make adjustments during paving, not after the job is complete.
Allows offset adjustments for your nuclear and non-nuclear gauges in minutes.
Unlike using ovens, there is no loss of volatiles or damage to the sample integrity. Samples stay close to room temperature through the drying process.
Footprint 18″ wide, 24″ deep, 12″ high. The footprint dimensions include the pump and the moisture trap.
Proven track record with hundreds of units in operation all around the world.
Additional Specifications
Weight: 43.1kg / 95lbs
Height: 43cm / 17"
Foot Print: 48cm W x 66cm D / 19"W x 26"D
Power: 120 VAC 15A (optional 220 VAC 7.5A)