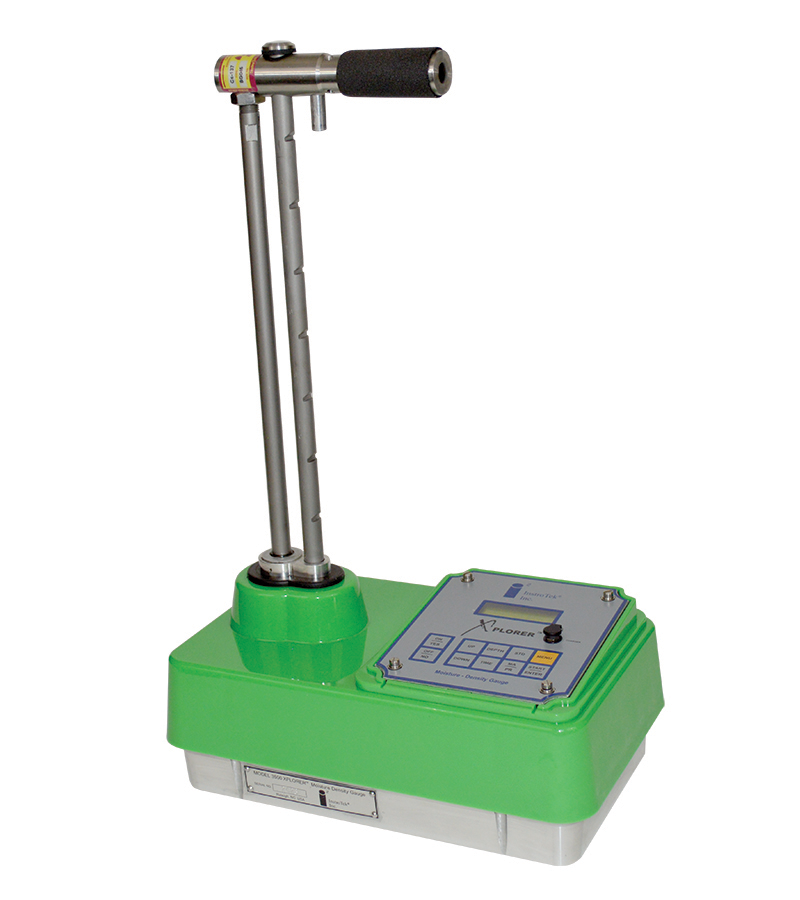 3500 Xplorer®
Rock Solid
AASHTO T-310, ASTM D6938, C1040, D2950, D7759 and D7013
We've developed a better Nuclear Moisture Density Gauge that is easy to operate, rugged and reliable.
Xplorer® has a proven track record of the best performance on the market with the lowest maintenance and operating costs. InstroTek Model 3500 Xplorer® is a nuclear moisture density gauge designed to provide superior performance, with design experience and expertise that is unmatched in the industry and service that you have come to trust for over 20 years. The Xplorer® features the most up-to-date electronics, extremely reliable surface mount components, and straightforward simple operation.
By listening to our customers, InstroTek has developed a highly advanced but very intuitive moisture density gauge. The operation is straightforward and uncomplicated. The menu options are easy to read and navigate. A backlit LCD screen and special scroll functions allow operators to easily read the Xplorer®'s two-line display during day or nighttime work. The simple keypad layout and program design will permit technicians to quickly move from other moisture density gauges to the Xplorer® 3500.
Battery Saver and InteliCharge extend battery life keeping the gauge on the job instead of on the charger. This unit has been thoroughly tested for ruggedness and accuracy. All components have been scrutinized for over two years showing better performance and reduced maintenance costs when compared to other gauges. Couple this with InstroTek's unmatched customer support and technical service that you have come to know and trust for over 18 years and you have an award-winning combination.
Useless "Bells and Whistles" Not Included
We asked our customers what features they rated as the most important in the gauge. Reliability, reduced service costs, and price was placed on top of the list. We analyzed all other gauges in the market and determined that in order to improve reliability and reduce service costs, we had to develop and test electronic modules that were more robust. We stayed away from features that are useless and ones that would create more confusion and increased repair costs.


The Non-contact Auto-depth indicator is included on all new Xplorer® 3500 gauges.

NUCLEAR GAUGE OWNERSHIP SHOULD BE SIMPLE AND HASSLE-FREE. LET INSTROTEK SHOW YOU HOW.
Please contact your InstroTek representative for more information.
Meets all AASHTO T-310 and ASTM D6938, and D2950 Standards.
Part of our motto: "Keep it simple" means the Xplorer® can easily be serviced and calibrated by any qualified repair center in the country, which means cost savings and reduced downtime for you.
Additional Specifications
Weight: 14kg / 31lbs
Height: 58.4cm / 23"
Foot Print: 30.8cm x 22.2cm / 14.5" x 8.75""
Power: 3-Cell D NiMH battery pack