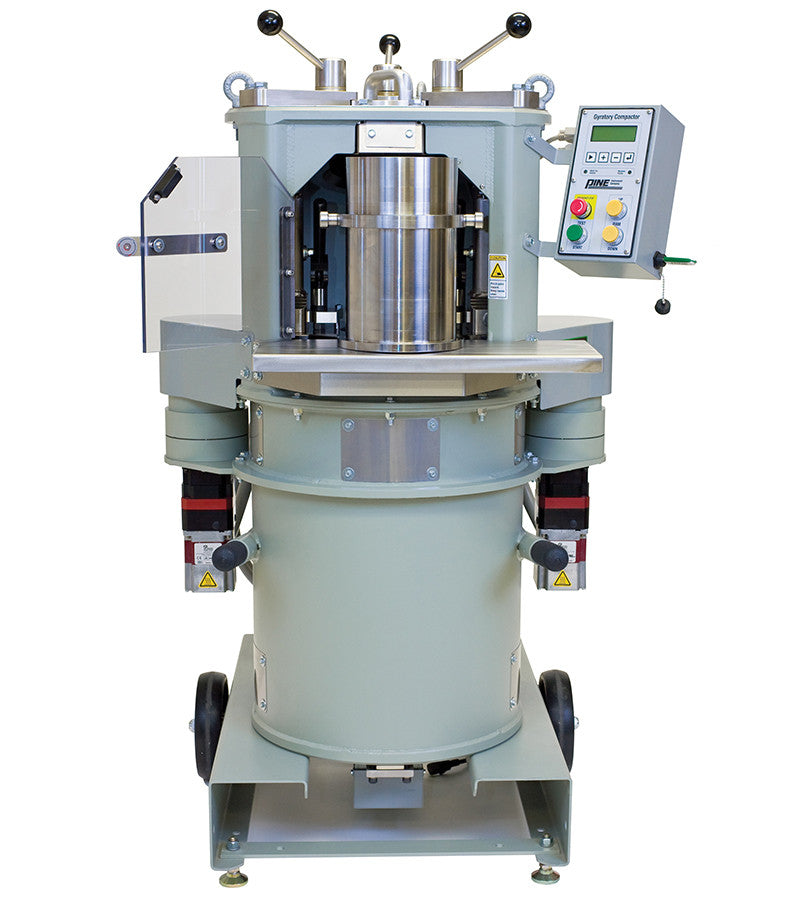 Pine Gyratory Compactor
AFG2 Superpave™ Gyratory Compactor
AASHTO T312, ASTM D6925, EN12697-31
U.S. Patents: #5,546,118; #5,606,133; #5,817,946; #5,824,913; #6,026,692; #6,622,569; #6,889,558
Looks like an AFG1
The AFG2 is our next-generation gyratory compactor. In this update of the dependable AFG1 compactor, we have incorporated features that today's mix design laboratories need in a gyratory compactor while retaining the reliable performance of the AFG1. Operation is much like the AFG1 and the AFG2 uses the same molds.
Programmable Angle of Gyration
The AFG2 can operate using either an internal or external angle of gyration over a range of 0.0° to 1.50° by simply entering the desired angle. This permits the use of the compactor over various angle specifications without recalibration and ensures the compactor will be fully capable of meeting future requirements.
Shear Instrumentation (optional)
The AFG2 can be equipped with load-cells to measure the force required to gyrate the specimen. This is typically referred to as gyratory shear. PinePave Excel templates are provided to graph the data as tilting moment (N-m) or gyratory shear (kPa) vs. gyration and shear (kPa) vs. % air-voids. The shear measurement instrumentation and internal angle of gyration are standardized using Pine's AFLS1 internal angle measurement kit.
Designed for various tasks
The AFG2 is compatible with the compaction of soils and emulsion-based mixes with protective covers over sensitive components. The AFG2 can be programmed to compact to a number of gyrations, specified height, or to a specified change in height per gyration, sometimes referred to as locking point.
Performance Test Specimens
The AFG2 has been designed to compact the tall specimens needed for performance testing. AFG2 users have reported compacting 150mm diameter X 200 mm tall specimens.
Complete Data Management
The AFG2 is network compatible. The gyration number, specimen height, angle, pressure, and shear moment (optional) are all measured and stored during the compaction process. Test data can be saved to a USB memory stick, printed directly with the optional printer kit, or accessed and printed through an Ethernet connection to a computer network or stand-alone computer. For convenience, data for 20 tests are also stored on the AFG2.
Features

Programmable angle of gyration
Operate at internal or external angle
Shear instrumentation (optional)
Network compatible plus USB data ports
180mm Tall Performance Test Samples
Built-in specimen extruder