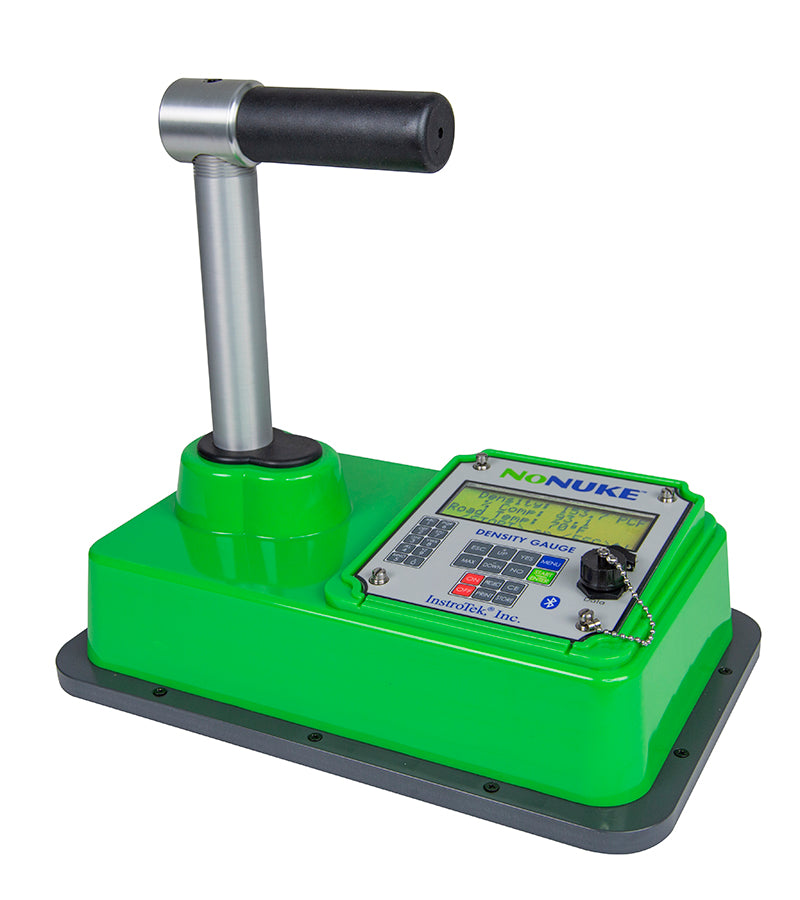 NoNuke™
A Highly Advanced Non-Nuclear Asphalt Density Gauge
AASHTO T343 and ASTM D7113
The InstroTek NoNuke is a highly advanced dielectric asphalt density gauge specifically designed to increase accuracy and dependability. The NoNuke's unique algorithm automatically alerts the operator of moisture presence that can negatively affect the accuracy and repeatability of test results. 
Strategically placed internal and external temperature sensors measure gauge and pavement temperatures to ensure the gauge is within the operating temperature. Moisture presence warning also will alert the operator of high moisture content in the asphalt pavement. These unique and innovative system checks are built into the NoNuke to continually monitor its environment and produce the best and most accurate test results.
Easy to Use, Easy to Own!

The NoNuke's lightweight design and rugged exterior make it easy to use even in the harshest environments. A simple and intuitive user-friendly software design allows the user to quickly enter the material, project, and target density information. The QuickTest button located at the top of the gauge handle can take readings and display the results on a large 4-line LCD that is viewable from any angle and in direct sunlight.
The NoNuke mobile application can be downloaded from the Google Play Store and can capture data, display test results, and create reports from any Android Smartphone or tablet. Users can download, print, or email test results for quick and easy sharing. Other features of the NoNuke App include reporting of GPS coordinates, customized reports with client information and company logos, and a camera function that allows the operator to take a picture of the testing location.  The NoNuke App is available free for all InstroTek gauge users.  
The NoNuke requires NO license, special transportation requirements, or radioactive certifications. 
Experience Matters
InstroTek has 100 years of combined experience in density measurement and development. InstroTek's scientists and engineers have been developing density gauges for decades. InstroTek's technical team started developing a non-nuclear asphalt density gauge almost 10 years ago with the goal of improving the currently available technology and reducing the uncertainty of dielectric density measurements. 
Advantages
Meets and exceeds the requirement of ASTM D7113 and AASHTO T343
No nuclear license or radioactive certification required
Free Android App for management and reporting of project data
Faster and easier to use
Lightweight
Automatic excessive moisture alerts
Capable of storing large amounts of data
Data download via USB

Go Next Level - Go NoNuke!  
 NoNuke Quick Start Guide (Watch video)